IKBR Ltd Reaching Out, Reaching Up for Redbrook,, Forest of Dean, Gloucestershire


IKBR is not only a supplier of used and refurbished Powered Access Platforms but also offer a full maintenance & repair service along with supplying spare parts and machine hire.

Established in 2018 and based from their workshop in Chepstow, IKBR can help you find the right equipment at a great price whatever your powered access needs.

It makes no difference whether you need a simple push around platform for a one-off project, or a yard full of tracked powered access machines that are core to your business, the level of service is the same.
You can be confident of the safety and reliability from IKBR as all machines that we sell are given a full service before delivery and come complete with the appropriate LOLER certificate. Our engineers are CAP accredited and all works are carried out to the standards laid out in PUWER.

IKBR are ideally placed to meet all access @ height needs for businesses such as Construction/Building, Farming, Cleaning Contractors and Warehouses.

You don't have to pay a fortune for this level of service either, and will find that all our prices are highly competitive, from a single on site service to a new machine purchase.

Give us a call on the number above or use the Contact Us link for a quote today.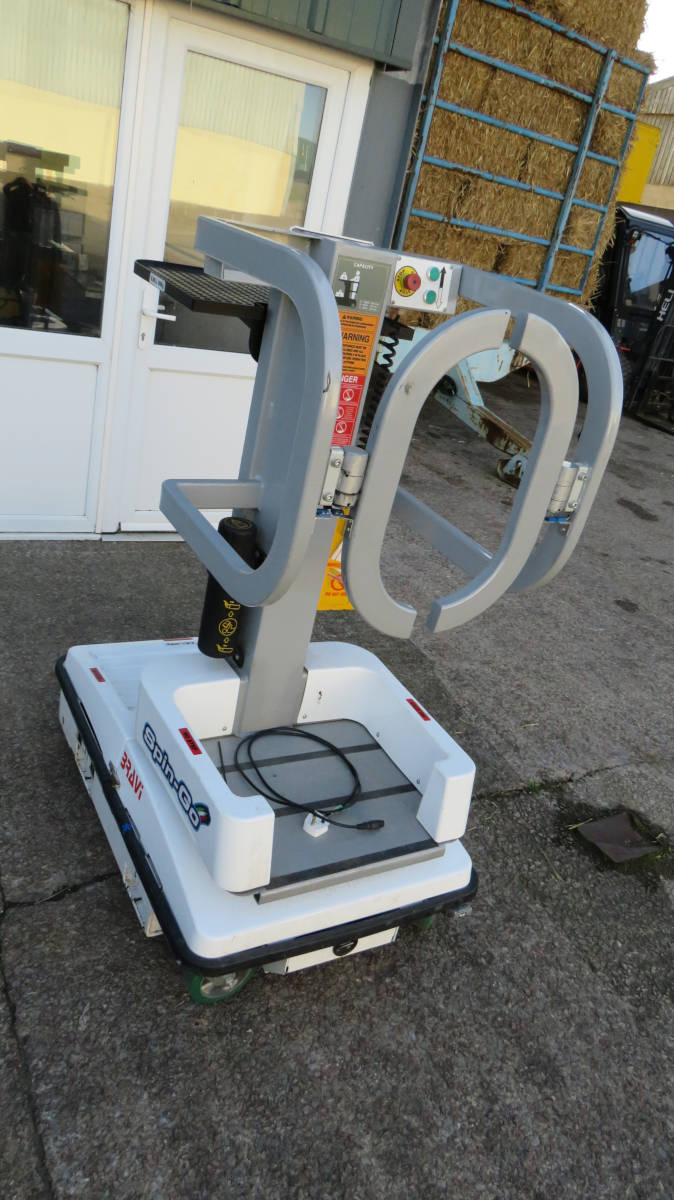 --Request Information-- --More Images Like This--Photo from Featured Project near Redbrook
Spin-Go Stock Picker
Spin-Go push-around vertical platform is the valid alternative to ladders and podiums normally used in shops, supermarkets, warehouses, malls, offices, libraries and archives. Easy and extremely Compact Spin-Go provides a safer and more efficient method of reaching highly positioned goods and merchandise , during stock replenishment, fit out, cleaning operations and much more. This versatile machine makes it possible to take the most advantages of their space, granting an effective space organisation and consequently an increased assortment of articles immediately at hand.
This 2012 model is in great condition and comes with 6 month LOLER
Final price is PLUS VAT and will come with a full vat invoice
Delivery can be arranged, please call for a price
Manufacturers advert on You Tube:
https://www.youtube.com/watch?v=dQJKYtJGMZ8

Redbrook overlooks the River Wye and a riverside park created by the local community to mark the millennium. A little above the river is the 19th century Church of St Saviour. Redbrook was the northern terminus of the Wye Valley Railway. When it closed, its rails were taken up and sent to France during WWII.
Situated on a attractive stretch of the Wye, Redbrook was an important industrial centre thanks to an ample supply of water power which ran down the valley and surrounding hills to the river. From Swan Pool down to the Wye, a number of leats, dams and reservoir ponds were created with many industrial sites including mills, an iron furnace, tinplate works and copper works. The oldest site is the King's Mill, which was a corn mill fist recorded in 1434 and remained in use until 1925. Though destroyed by fire some ruins and the wheel pit can still be seen by the road leading up the valley (following the track of the 812 Monmouth & Coleford Tramway).
The Redbrook Copper Works was established c1960 using ore brought from Cornwall via Chepstow and worked until 1740 when it closed down and the buildings leased for the manufacturer of tinplate. The tinplate factory, run by the Redbrook Tinplate Co., was world famous for the high quality product it made and did not close until 1962. Today the manager's residence, dating from c1700, still survives (as private houses) but of the other buildings little now remains. Redbrook was also a port where the various products of the local industries were shipped out and the quay, though overgrown, still survives, along with a stone warehouse and a tram-road which linked the industrial works to this building can still be made out.
The most obvious feature at Redbrook is the wooden pedestrian bridge which once carried the Wye Valley railway across the river and now forms part of the Wye Valley Path.The railway was opened in 1876 to connect Monmouth to the South Wales line and did not close until 1964. On the opposite side of the river by the bridge is The Boat Inn, which originated as a hostelry for river watermen and is now an attractive little unspoilt real ale pub.