IKBR Ltd Reaching Out, Reaching Up for Mordiford,, Forest of Dean, Gloucestershire


IKBR is not only a supplier of used and refurbished Powered Access Platforms but also offer a full maintenance & repair service along with supplying spare parts and machine hire.

Established in 2018 and based from their workshop in Chepstow, IKBR can help you find the right equipment at a great price whatever your powered access needs.

It makes no difference whether you need a simple push around platform for a one-off project, or a yard full of tracked powered access machines that are core to your business, the level of service is the same.
You can be confident of the safety and reliability from IKBR as all machines that we sell are given a full service before delivery and come complete with the appropriate LOLER certificate. Our engineers are CAP accredited and all works are carried out to the standards laid out in PUWER.

IKBR are ideally placed to meet all access @ height needs for businesses such as Construction/Building, Farming, Cleaning Contractors and Warehouses.

You don't have to pay a fortune for this level of service either, and will find that all our prices are highly competitive, from a single on site service to a new machine purchase.

Give us a call on the number above or use the Contact Us link for a quote today.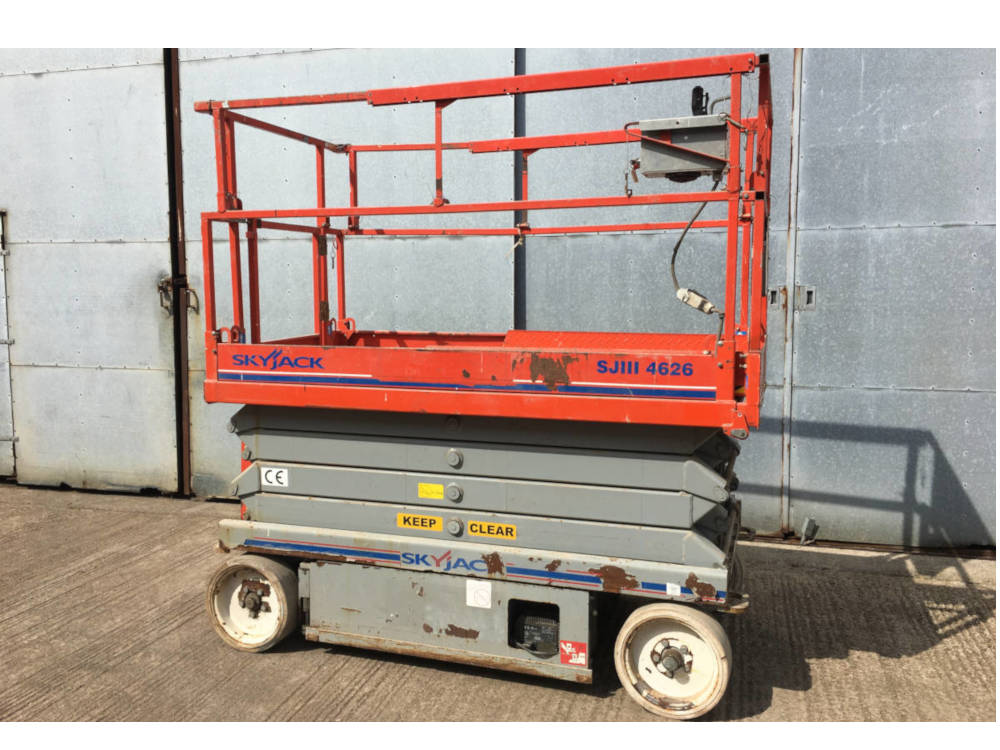 --Request Information-- --More Images Like This--Photo from Featured Project near Mordiford
Skyjack SJ 4626 Access Platform 8mtr Electric Scissor Lift
Fully serviced and tested Skyjack SJ4626
Year 2005
Hours 140
26' platform height DC scissor lift
Comes Serviced and fully checked with 6 month LOLER Cert and New batteries
Non-marking Solid tyres
Onboard 110v/220v Charger
Final price will be Plus VAT with a full VAT invoice supplied

Mordiford is pure English countryside at its very best. It lies a few miles south of the cathedral city of Hereford and about a 30 minute journey north from Ross-on-Wye, which takes you through some of the lushest scenery in the Wye valley.
Mordiford stands on the River Lugg, slightly above its junction with the better known River Wye. It is a beautiful river that snakes it's way through bountiful meadows, orchards and farmlands. Good fishing is to be enjoyed on the Lugg, it is known well for grayling. Mordiford itself is a patchwork of fields and wooded hills and little lanes that criss-cross here and there. Dotted around are beautiful old cottages, and farmhouses that hide behind an avenue of lofty trees. At Mordiford is a 600 year old bridge that has nine arches. Interestingly, it is said that in medieval times when the king rode over this bridge he was given a pair of silver spurs by the lords of Hereford and it is supposed that this was their payment for the manor of Mordiford.
Fine as the scenery is in this wonderful area, for views that are truly spectacular you need to walk from the town to the top of Blackbury Hill. The vista's all around are stunning, the sparkling river lies below and in the distance, beyond the great cathedral of Hereford, you can see the misty tips of the Welsh mountains. This is a peaceful, lonely spot, often not a sound can be heard other than the twittering of birds as they circle even higher above you.
Many species of wildlife thrive in the wooded areas that are spread throughout this beautiful region. You can roam in quiet tranquility along the forestry commission paths that take you past old oaks, firs and beech trees. Autumn is glorious, a never ending rainbow of brilliant greens, golds and rich reds. Leaves fall and form a thick carpet beneath your feet and a late after-noon sun dapples between the trees, the atmosphere is magical and you could be foriven for imagining an elf or two, with graceful fairies, dancing in the glade!
This too, is fruit country and as you drive along the leafy lanes, you pass mile upon mile of orchards full of gorgeous english apples, pears and cherries. Fields are full of fresh strawberries and round every corner is a poster proclaiming P.Y.O. Giant hops grow throughout the region, for Herefordshire is famous for it's cider. You can have a wonderful day out here, you can relish the vast open spaces of Mordiford and the fine views over the Lugg from Blackbury Hill, you can savour the calm tranquility of the woods, and afterwards, you can seek out a friendly inn and part-take of a hearty supper, taken with a glass of local cider followed by strawberries and cream.