IKBR Ltd Reaching Out, Reaching Up for May Hill,, Forest of Dean, Gloucestershire


IKBR is not only a supplier of used and refurbished Powered Access Platforms but also offer a full maintenance & repair service along with supplying spare parts and machine hire.

Established in 2018 and based from their workshop in Chepstow, IKBR can help you find the right equipment at a great price whatever your powered access needs.

It makes no difference whether you need a simple push around platform for a one-off project, or a yard full of tracked powered access machines that are core to your business, the level of service is the same.
You can be confident of the safety and reliability from IKBR as all machines that we sell are given a full service before delivery and come complete with the appropriate LOLER certificate. Our engineers are CAP accredited and all works are carried out to the standards laid out in PUWER.

IKBR are ideally placed to meet all access @ height needs for businesses such as Construction/Building, Farming, Cleaning Contractors and Warehouses.

You don't have to pay a fortune for this level of service either, and will find that all our prices are highly competitive, from a single on site service to a new machine purchase.

Give us a call on the number above or use the Contact Us link for a quote today.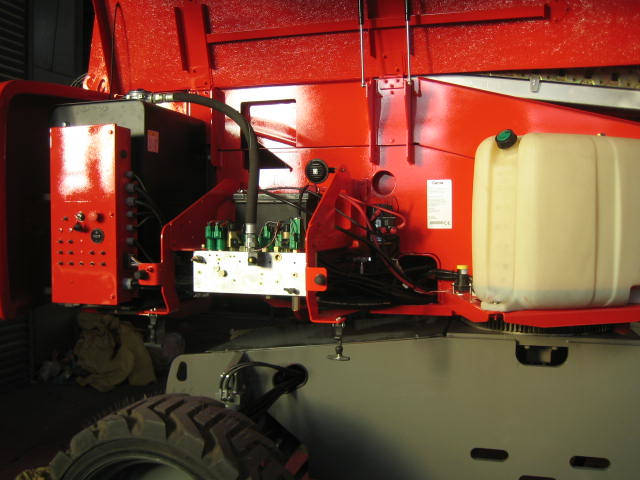 --Request Information-- Photo from Featured Project near May Hill
Overhaul & Refurbishment of Powered Access Plant
There comes a time in the life of every hard working machine when a major overhaul is needed. Bearings wear out, even when they have been routinely lubricated, ropes stretch beyond safe limits and mechanical components can all be damaged by the stresses and strains of hard daily use.
When that time comes, down time on any machine can be a big problem in your business. With many years of experience in powered access platform maintenance, we understand that time in the workshop is not time earning money. That is why your machine will be overhauled quickly and efficiently, returning to work as soon as possible.
Major overhauls can very often be carried out on site, or in our own workshop when that isn't viable, with collection and delivery service available to local customers. After a thorough examination, you will be quoted for the necessary repairs quickly, so that we can get on with restoring your MEWP equipment at the earliest opportunity.
Our overhaul personnel are all qualified to CAP standards and your machine will be restored in compliance with all current legislation and standards, including the issue of a new LOLER certificate.
If your powered access plant is in need of some big love, call us on the number shown, or click in the header of any page to send us an email outlining what you need and leave the rest to us.
Three miles to the south-west of Newent lies May Hill (National Trust Land). The hill rises to over 900 feet. The conifers on top of the hill were planted to commemorate the Golden Jubilee of Queen Victoria. The magnificent view from the top of May Hill stretches over Gloucestershire and extends to Bristol, on a clear day. May Hill itself can be clearly seen from over 45 miles from the north, and from Dundry 50 miles to the south, easily identifiable by the clump of trees on it's summit.