IKBR Ltd Reaching Out, Reaching Up for English Bicknor,, Forest of Dean, Gloucestershire


IKBR is not only a supplier of used and refurbished Powered Access Platforms but also offer a full maintenance & repair service along with supplying spare parts and machine hire.

Established in 2018 and based from their workshop in Chepstow, IKBR can help you find the right equipment at a great price whatever your powered access needs.

It makes no difference whether you need a simple push around platform for a one-off project, or a yard full of tracked powered access machines that are core to your business, the level of service is the same.
You can be confident of the safety and reliability from IKBR as all machines that we sell are given a full service before delivery and come complete with the appropriate LOLER certificate. Our engineers are CAP accredited and all works are carried out to the standards laid out in PUWER.

IKBR are ideally placed to meet all access @ height needs for businesses such as Construction/Building, Farming, Cleaning Contractors and Warehouses.

You don't have to pay a fortune for this level of service either, and will find that all our prices are highly competitive, from a single on site service to a new machine purchase.

Give us a call on the number above or use the Contact Us link for a quote today.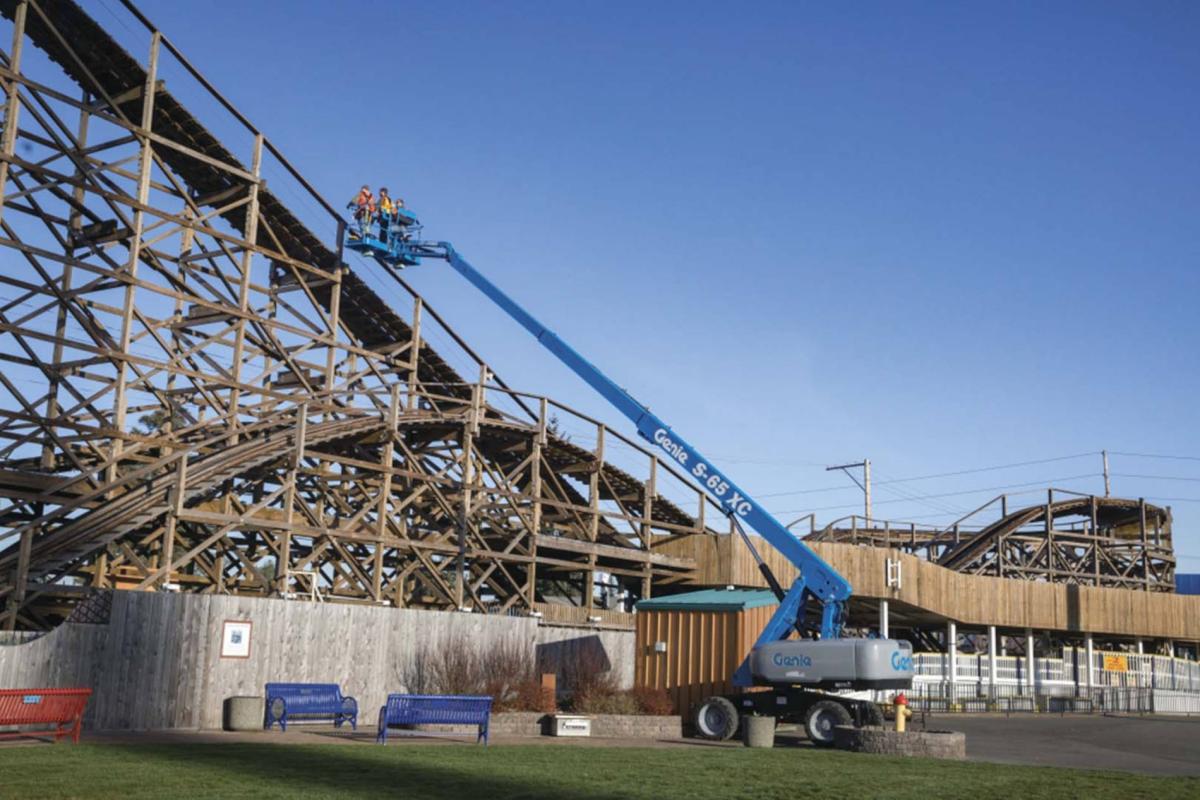 --Request Information-- Photo from Featured Project near English Bicknor
Example of Genie Access Platform for Hire or Sale
Just one of the many types of powered access platform available from IKBR to buy or rent for a flexible term. All our access platforms, scissor lifts, telescopic or articulated boom lifts come fully serviced and with a new 6 month LOLER certficate.
For the most personal attention to your powered access or MEWP needs, whether it be servicing and repair of existing access platforms, or if you want to hire or buy additional machines, call us or clickk in the header of any page to send an email.
English Bicknor is one of the ancient villages of the Forest of Dean, situated at the top of a hill overlooking the Wye Valley, and once the site of an ancient motte & bailey castle, the remnants of which can still be seen. Close to the village is Bicknor Court, an imposing house some 400 years old. Situated between Symond's Yat and Lower Lydbrook on high ground opposite its namesake Welsh Bicknor.
English Bicknor is first recorded as a hamlet in 1066. A primarily agricultural and industrial area, its main attraction today is the small Norman Church of St Mary which has excellent internal masonry and sculpture dating from the 12th century. The original tower was situated centrally but was built from the soft local sandstone which became unsafe. The church is also interesting because it is sited within the outer courtyard of the motte and bailey castle. Norman masonry has been found within the motte, suggesting at least part was built in stone and while nothing is left of the castle's actual structure today, its location is still identifiable.
A typical early Norman defence work which is one of many along the Welsh border, it is thought to have been built in the reign of Henry 1 (1100 - 1135) or Stephen (1135 - 54) and was demolished or destroyed by the late 14th Century, but why and how is not known.