IKBR Ltd Reaching Out, Reaching Up for Clearwell,, Forest of Dean, Gloucestershire


IKBR is not only a supplier of used and refurbished Powered Access Platforms but also offer a full maintenance & repair service along with supplying spare parts and machine hire.

Established in 2018 and based from their workshop in Chepstow, IKBR can help you find the right equipment at a great price whatever your powered access needs.

It makes no difference whether you need a simple push around platform for a one-off project, or a yard full of tracked powered access machines that are core to your business, the level of service is the same.
You can be confident of the safety and reliability from IKBR as all machines that we sell are given a full service before delivery and come complete with the appropriate LOLER certificate. Our engineers are CAP accredited and all works are carried out to the standards laid out in PUWER.

IKBR are ideally placed to meet all access @ height needs for businesses such as Construction/Building, Farming, Cleaning Contractors and Warehouses.

You don't have to pay a fortune for this level of service either, and will find that all our prices are highly competitive, from a single on site service to a new machine purchase.

Give us a call on the number above or use the Contact Us link for a quote today.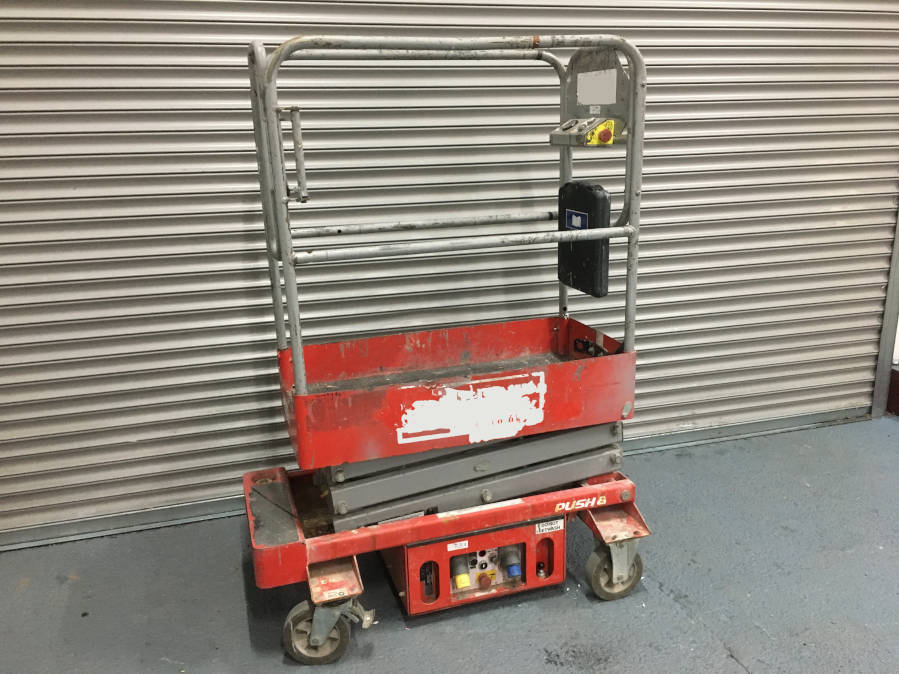 --Request Information-- --More Images Like This--Photo from Featured Project near Clearwell
2010 Pop-Up Push 8 PAV
2010 Pop Up Push comes with Auto brakes, on-board dual voltage charger
Serviced with 6 month LOLER certification
UK delivery can be arranged, please call for a quote
Clearwell is located about three miles south of Coleford in an attractive valley adjacent to the Wye Valley Area of Outstanding Natural Beauty. The village has historical associations with the extraction of iron on the adjoining Clearwell Meend.
St Peter, Clearwell : This is considered by some as a "jewel" among an historic village and was designed by John Middleton as requested by the Dowager Countess Dunraven of Clearwell Castle and was opened in 1866. It is a fine example of mid 19th century "French Gothic" style as there is a mass of carving, coloured stone, brass and stained glass and a magnificent stenciled roof. The interior consists of courses of blue and red sandstone whereas the outer walls are faced with local sandstone and dressings of white bath stone. There is also a great deal of fine sculpture. Most of Clearwell lies within a Conservation Area and there are many fine buildings in the village, typically constructed of local red sandstone. Notable among these buildings are Clearwell Castle and the Church of St. Peter. The village originated in Saxon times as a mining hamlet where iron ore was dug out of the surrounding limestone rock. This activity began in the Iron Age and expanded rapidly during the late Medieval period, reaching a peak in the 16th /17th centuries. Much wealth was accumulated which shows in the many fine stone buildings in the village and the large village cross. Clearwell castle was built in the early 18th century by Thomas Wyndham to replace an older house on the same site.
The Clearwell Castle was built in Gothic style with battlements and is a two-story hall enclosed within a courtyard. It has an imposing gateway formed by two three-story towers. Built of local stone, the house was first known as Clearwell Court but the name was changed to Clearwell Castle in 1908. For a time after 1947 it lay empty and deserted but in the 1960's it was bought and restored by the son of the former estate gardener and converted into a hotel, and its now a nationally known wedding venue. Other buildings of note include several Tudor cottages, the Wyndham Arms Inn and Platwell House which has an 18th century front and Tudor back.