IKBR Ltd Reaching Out, Reaching Up for Lower Cwmtwrch, , South Wales


IKBR is not only a supplier of used and refurbished Powered Access Platforms but also offer a full maintenance & repair service along with supplying spare parts and machine hire.

Established in 2018 and based from their workshop in Chepstow, IKBR can help you find the right equipment at a great price whatever your powered access needs.

It makes no difference whether you need a simple push around platform for a one-off project, or a yard full of tracked powered access machines that are core to your business, the level of service is the same.
You can be confident of the safety and reliability from IKBR as all machines that we sell are given a full service before delivery and come complete with the appropriate LOLER certificate. Our engineers are CAP accredited and all works are carried out to the standards laid out in PUWER.

IKBR are ideally placed to meet all access @ height needs for businesses such as Construction/Building, Farming, Cleaning Contractors and Warehouses.

You don't have to pay a fortune for this level of service either, and will find that all our prices are highly competitive, from a single on site service to a new machine purchase.

Give us a call on the number above or use the Contact Us link for a quote today.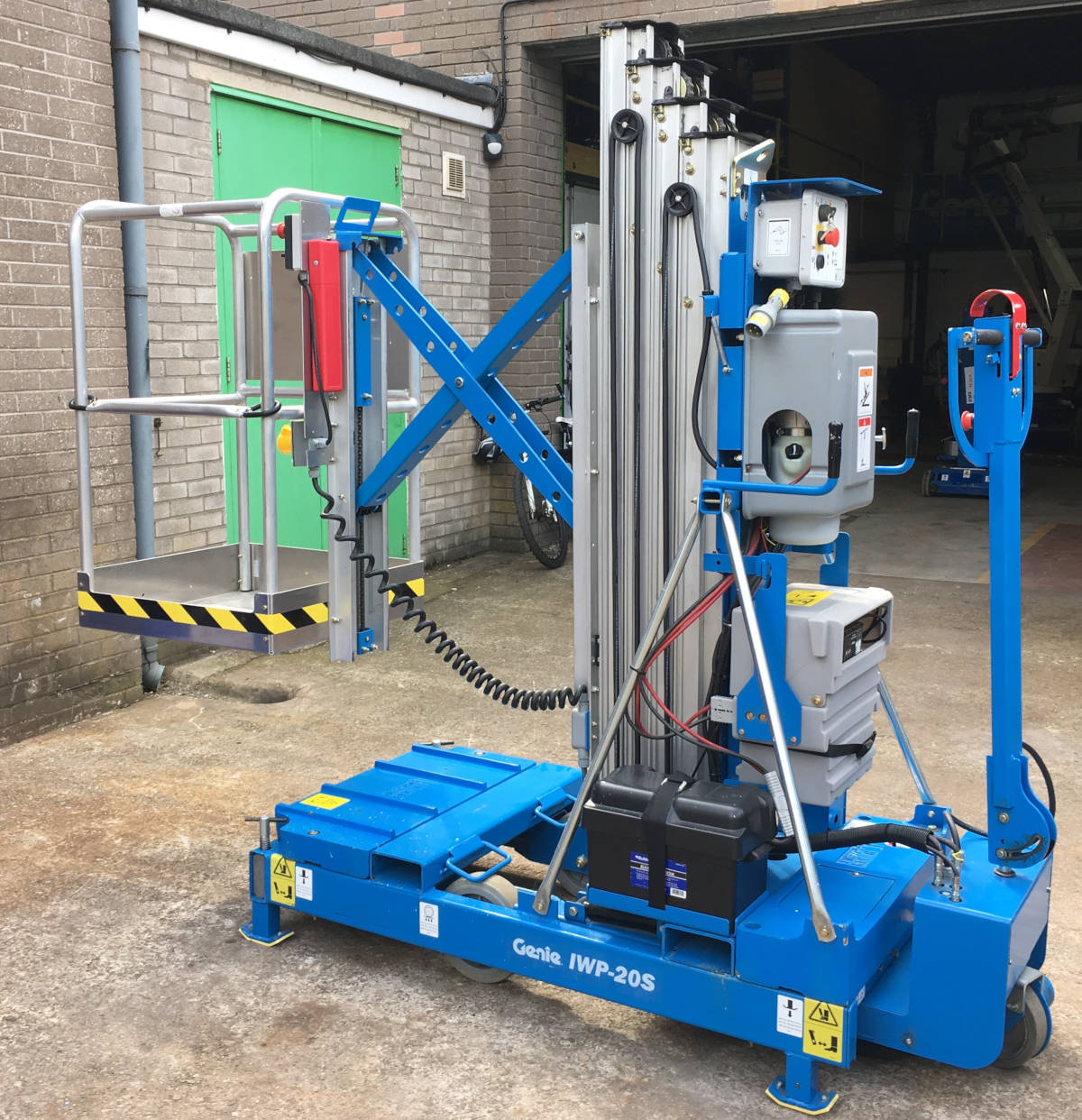 --Request Information-- Photo from Featured Project near Lower Cwmtwrch
2011 GENIE IWP20S
2011 Genie IWP20S Mast Lift
This is in fantastic condition having had one owner with only very light use.



Standard Features:-

• Power Wheel Drive Assist • Dual Batteries • Outreach option adds 2 ft 2 in (.66 m) of horizontal reach and standard platform.

Specification:- 26 ft 5 in (8.22 m) working height • 20 ft 5 in (6.22 m) platform height • 2 ft 8 in (.81 m) standard base width • 3 ft 4 in (1.02 m) wide base width • Outreach option adds 2 ft 2 in (.66 m) of horizontal reach



Supplied with full service and 6 Month LOLER certificate


UK Delivery can be arranged.
Lower Cwmtwrch is well known for these attractions:
Lower Cwmtwrch is also close to our Monmoutshire sales centre. Personal callers are always welcome, or we can come and see you to talk over your powered access platform needs. There is always a wide variety of equipment to look over and our stock is changing all the time, so if you have a particular requirement, use the get a quote form on this page to let us know what you need. If it is not in stock, we can find it for you.
Before delivery to Lower Cwmtwrch, all machines will be fully serviced in our Chepstow workshop and supplied ready to use with the appropriate LOLER certification so you can get on with the job, confident that the access equipment will be safe and reliable. Our technicians have Competent Assessed Persons (CAP) accreditation through IPAF and all work is carried out in compliance with the PUWER (Provision and Use of Work Equipment Regulations 1998) standard.
Whether your need dictates powered access, diesel or electric, trailer or push around access towers, you can be sure that IKBR will provide the most appropriate equipment on time, on site and at a fair price. Call us on 077256 35588 or click in the header of any page to send Lower-Cwmtwrch-s-wales@ikbr.co.uk an email.